Events
Horizons Giving Day
Horizons annual Giving Day will be on Wednesday, May 18th! Help support Horizons at DCD by contributing to our annual fundraising push this Giving Day. All proceeds will go towards the 2022 summer program!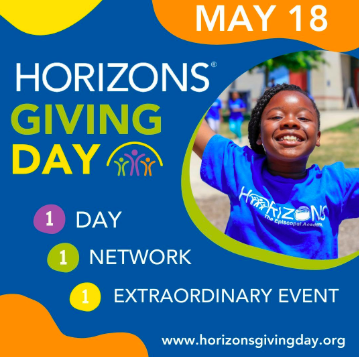 Future/Bright Benefit
Thank you to all who attended and supported the annual Future/Bright event on April 9th, 2022.
Your generosity helped us raise $392,000... $17,000 above our goal!
Your support will help Horizons combat the opportunity gap and learning loss exacerbated by the COVID-19 pandemic. This summer, Horizons will host over 150 scholars on the DCD campus, filling days with academics, enrichment, swimming, field trips, and building lifelong friendships.


Moving For Horizons
Horizons hosted our 2nd annual Moving for Horizons fundraiser! Moving for Horizons is a virtual event that encourages individuals to get up and get moving for a good cause.
From January 17th- February 21st, Horizons Champions will be moved their bodies and raising money to support Horizons at DCD.
With your generosity and the immense support of our Champions, Horizons raised $12,140 during Moving For Horizons!
Thank you all so much for making this year's Moving For Horizons a success, and check back next year for another great Moving For Horizons!

Paddle For a Cause
From October 1st at 6pm- October 2nd at 6pm, Dedham Country and Polo Club hosted "Paddle for a Cause," a 24-hour paddle-tennis marathon!
There was a great turnout and all together DCPC raised over $8000 for Horizons at DCD!
Thank you so much, DCPC, for all of your contributions and partnership!