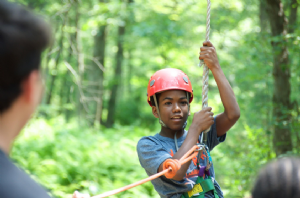 "Because of Horizons, I was able to learn to swim. I've also been able to keep in contact with some of my oldest friends through this program. Without Horizons, I would have lost contact with them by now; I appreciate Horizons for this since some of my fondest memories are with them."
Hometown: Boston, MA
Current School: Beaver Country Day School
Entered Horizons In: Kindergarten
Highlights
Erick is an inquisitive, self-motivated learner, and has always felt at home in a classroom. Horizons has been a reliable space for Erick to both foster his love of learning outside of school, and understand his academic potential.
During his 5th grade summer, Erick gained a year's worth of literacy skills and entered the 6th grade reading at a 12th grade level.
Continuous Growth
This fall, Erick is confidently moving towards his goals as a freshman at Beaver Country Day School. He plans to keep a connection with Horizons by returning next summer as a volunteer so that he can help other students recognize their potential.
All Success Stories